Upstairs at Bemora, you will find Escape, the perfect place for a period of self-care and indulgence.
It is a sanctuary where you can relax and recharge, leaving all of life's troubles at the door.
"I want you to allow yourself to take time to recharge and unwind. These are acts of recognising your self-worth and are more than just a treat; it's part of a well-being lifestyle and the benefits that come with that are invaluable."
WEIWEI WU
Founder of BEMORA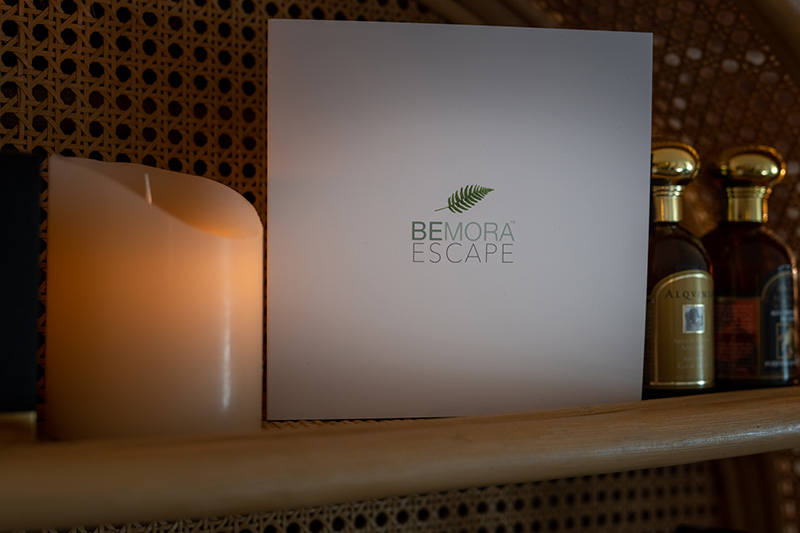 From superior aromatherapy facials to deeply therapeutic rituals using a medley of Bemora and Alqvimia products, our highly trained therapists use their expertise to bring the power of Mother Nature to your treatment experience.
Every spa session is tailored to meet your individual needs. Whilst the treatment menu describes some of the massages, facials, and rituals on offer, we will talk to you to find out exactly what you want to achieve and then recommend the most appropriate solution. You and your body are unique. It may be that you would benefit most from a combination of therapies rather than one specific service. We will happily curate a package to suit.
Each therapist is highly trained and experienced and will provide a wonderful experience and amazing results. Each also has their own speciality.
Our in-house senior therapist, Sarah, has 25 years of experience and delights in providing massages and facials. She is an advocate of essential oils and loves the soul-awakening scents of Alqvimia. Sarah knows first-hand the incredible effects these products can have on your mood and well-being. She enjoys meeting people and learning new things.
Unless she is out playing crazy golf, you will find Sarah cooking up a storm in the kitchen before heading outside to burn off the calories!
If you are looking for a deep-tissue massage, Raf is your man. He is a specialist in musculoskeletal health and enjoys learning about manipulating different aspects of the body to improve well-being. He is also fascinated by all aspects of mindfulness, meditation, and natural remedies.
As you would expect from a member of the Bemora staff, Raf, like Sarah, is a foodie and has a keen interest in nutrition and fitness. He is also very creative and enjoys writing, blogging, and playing the guitar.
Another fan of giving and receiving massages, Sonia is especially passionate about the Ayurvedic healing properties of Oriental head massages. She loves relieving people's aches and pains and promoting a sense of calm and harmony. Sonia has been interested in beauty therapy from a young age and is keen to share her knowledge with others.
Away from work, Sonia enjoys spending her time with her family creating artwork, building Lego, and having adventures in nature.